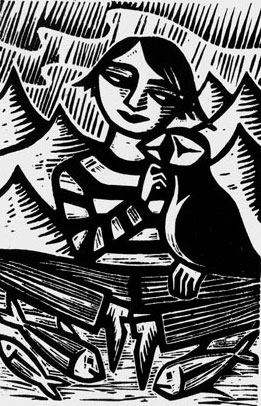 A one-time witch's familiar, Pyewackett is our resident alchemist, alongside being a notable painter and printer maker as well. Born in 1614, he is WPG's oldest living contributor. Having obtained the elixir of life, he has been witness to many of the key events of the last four hundred years, including the English Civil War, the Witch Hunts, and the Great Plague of 1665. Over the years Pyewackett has amassed an impressive collection of chapbooks and broadsides, and he is an avid collector of vintage alchemical laboratory equipment.
The black and white artworks on this page are hand-printed greeting cards, all linocuts based on designs made by Pyewackett. These cards are presently available to our Garden Gallery's visitors. However, if you are interested in purchasing any of the cards online, please contact the gallery
here.
Proceeds from sales contribute to Pyewackett's upkeep.
Pyewackett is also a prolific painter, and his canvases can be found in countless private collections. His work can be purchased online, subject to availability. He is also open to commissions.